Entérate Resources
---
---
Scholarships for Minorities
---
---
http://www.computerscienceonline.org/cs-programs-for-minorities/

The Next Hot Major for Minority Students
Opportunities abound for African-American and Hispanic students in computer science, a field eager to diversify. This guide will help minority students understand why they should consider computer science, how they can explore and prepare before college, what to look for in a degree program, and how to afford a degree.
---
---
| | | |
| --- | --- | --- |
| | $1,000 | "Reed Tech Scholarship Opportunity Innovations drive progress, economic growth and are the engine that moves patent-driven companies forward. Students who have studied STEM majors have gone on to develop innovations that have materially changed both our work and leisure lives. For this essay, please write about a significant innovation, what benefits it has provided and how you would improve upon it." |
---
| | | |
| --- | --- | --- |
| | $1,000 | "Southland Electrical Supply Scholarship Program Are you interested in furthering your career and life by going to college? Is your dream to become the next Alfred Nobel? Are you looking for ways to cut tuition costs? Students who studying or planning to study in a STEM (science, technology, engineering, math) major or a related field or trade are invited to take part in our essay competition. Please write an essay about ""How innovation affects the science, technology and trade industry"" Take this concept and apply it to a field or trade of your choice, explaining how innovation has changed and will continue to change your chosen discipline." |
---
| | | |
| --- | --- | --- |
| | $1,000 | "Design Your Future – Win a $1,000 College Scholarship Are you a creative, motivated individual interested in studying design at one of the New York area's many design schools? No matter what design discipline you follow, we invite you to present your vision and showcase your knowledge. Students interested in this scholarship are invited to participate in our essay competition. The topic to be explored for this year's scholarship essay contest is "Today's Design Trends Across Different Markets." |
---
| | |
| --- | --- |
| | |
---
| | | |
| --- | --- | --- |
| | $1,000 | "AmeriQuest Transportation Services Scholarship – Win a $1,000 Scholarship Students who are studying or are planning to study a technology or business derived major, or a related field or trade, are invited to take part in our $1,000 scholarship essay competition. Whether you know it or not, the transportation industry is suffering from a serious shortage of drivers. This problem has forced the industry to begin reevaluating its practices, hoping to attract a new pool of young, qualified drivers. The topic for this year's scholarship essay competition is, "What can the transportation industry do to attract a new generation of drivers?" For your essay, take this concept and present your ideas as to how the industry can best market these jobs to young adults and millennials. " |
---
| | | |
| --- | --- | --- |
| | $1,000 | "Accounting Software Scholarship by Corcentric One of the prevailing issues facing so many young adults in the U.S. is the large student debt they carry upon graduating from college. Saving early through 529 plans and Roth IRA's are just some of the ways to offset a portion of that debt. Consider what you or your parents did or are doing to prepare for your college education. If you were able to advise young students on this issue, what would you advise them to do? This scholarship is open to currently enrolled full-time college freshmen, sophomores, and juniors, as well as to high school seniors in the United States who will attend college." |
---
| | | |
| --- | --- | --- |
| | $500 | "Nissenbaum Internet Law Scholarship The Nissenbaum Law Group, a multi-state law firm with a focus in Internet law, has established the Nissenbaum Internet Law Scholarship. It is geared to undergraduate and post-graduate students of an American scholastic institution. The two winners will each receive a $500 scholarship. The firm may also award non-monetary honorable mention(s). The topic for the scholarship essay is: How can the American legal system improve its approach to policing and regulating digital technology without unduly stifling innovation and civil liberties?" |
---
---
MALDEF - Mexican American Legal Defense and Educational Fund
Latino Parental Involvement in our Schools
A listing of individuals who are the only certify Parent School Partnership Program trainers by MALDEF (Mexican American Legal Defense and Educational Fund) in the state of Idaho. Please note area of representation.
Marisol Aguilar - University of Idaho - Ada County Extention
Christina Alvarez - Blackfoot School District
Gabriela M. Arévalo - Community Council of Idaho
Dolores Avila - Fruitland School District
Margarita Ayala - Hillcrest School
Norma Barrientos - Department of Health & Welfare
Sulema Basaldúa - Nampa School District
Rosario Beagarie - FCF Head Start
Nicole Billiard - Wendell Elementary
Karen Bliss - Blaine School District
Lymaris Blackmon - Idaho Commission on Hispanic Affairs
LaMar Brooks - Bridge Academy
Christopher Butts - Nampa School District
Grace Campos - Minidoka School District
Patricia Canto - Boise, ID
Laura Lee Carlisle - Jerome School District
Mary Carlisle - Provo, UT
Michael Corbett - Shelley School District
Kaywin Cottle - Preston High School
Estela de González - Corpus Christi in Fruitland
San Juanita de La Cruz - Wilder School District
Dina Flores-Brewer - Disability Rights Idaho
Vicky Fajardo - Robert Stuart Middle School
Graciela Fonseca - Department of Health & Welfare
Amelia Gasca - Snake River District
Maria L. Gaytan - Mountain Home School District
Maria Christina Gibson - Blackfoot School District
Elsa Gleason - Caldwell, ID
Doraelia Gomez - FCF Head Start
Angélica González - Hillcrest School
Edith González - Middleton Migrant Family
Claudia Guerrero - Idaho Partnership for Hispanic Health
Mary Gutierrez - Nampa School District
Danielle Harris - Fruitland School District
Leticia Harris - Madison School District
Galicia Hernandez - Family Liaison
Nicole Howe - Blaine School District

Jane Howell - Shoshone Joint School District
Jacquelyn Jones - Blaine School District
Janie Jonhson - Canyon Ridge High School
Candice Larsen - Preston School District
Norma Leon - Cassia County School District
Molly Lewellwen - Fruitland School District
Connie Mackenzie - Meridian Joint School District
Derrick May - Canyon Ridge High School
Francisco Mendez - T.E.E.N.S. Coalition
Sandra Miller - Minidoka School District
Abby Montano - Twin Falls School District
Dana Morfin - Twin Falls School District
Noel Morfin - Twin Falls School District
Sylvia Olvera - Vallivue School District
Lucinda Padilla - Canyon Ridge High School
Cesar Perez – College of Southern Idaho
Barbara Petersen - Preston School District
Lisa Ramirez - Idaho Federations of Families
Rachel Reyes - Community Council of Idaho
Maria Rios-Tabuso - Nampa School District
Delia Rivas - Hillcrest School
Maria Roldán - Ketchum School District
Alma Rodriguez - Jerome School District
Tara Rodriguez - Shoshone Joint School District
Juan J. Saldaña - Idaho Commission on Hispanic Affairs
Mónica Sánchez - Minidoka School District
Elia Sandoval - Nampa Parent
Magdalena Soto - New Hope/Nueva Esperanza
Gabriela Tapia - Catholic Charities of Idaho
Jennifer Torres - Marsing School District
M. Victoria Valero - New Plymouth School District
Teresa Valero - Kuna School District
Linda Vazquez - Parma School District
Pamela Walth-Cantu - Meridian Joint School District
Shane Williams - Madison School District
Silvia Woodward - Preston School District
---
Scholarships for Minority
Sponsored by: America's Promise Alliance
Scholarships for Minorities
Available Scholarships - for Minorities to Apply
A number of companies and organizations have donated money for scholarship use for minorities
Campesinos Unidos de Idaho Scholarship Applications are available from Campesinos Unidos, 803 10th Street South, Nampa, ID 83651 or by calling María at (208) 230-2416 or emailing her at mmabbutt@msn.com
NIH Summer Internship Program
http://www.niehs.nih.gov/careers/research/summers/
President Obama Launches White House Internship Program White House Internship Program
Hispanic Business Association For more information: Hispanic Business Association * Email: info@hbaonline.org
The Hispanic Scholarship Fund ¿Está listo? Are you ready? It's that time of year again! The Hispanic Scholarship Fund applications are available online at www.hsf.net
The Davis-Putter Scholarship Fund since 1961, the Davis-Putter Scholarship Fund has provided need-based grants to student activists who are able to do academic work at the college level and are involved in building the movement for social and economic justice.
---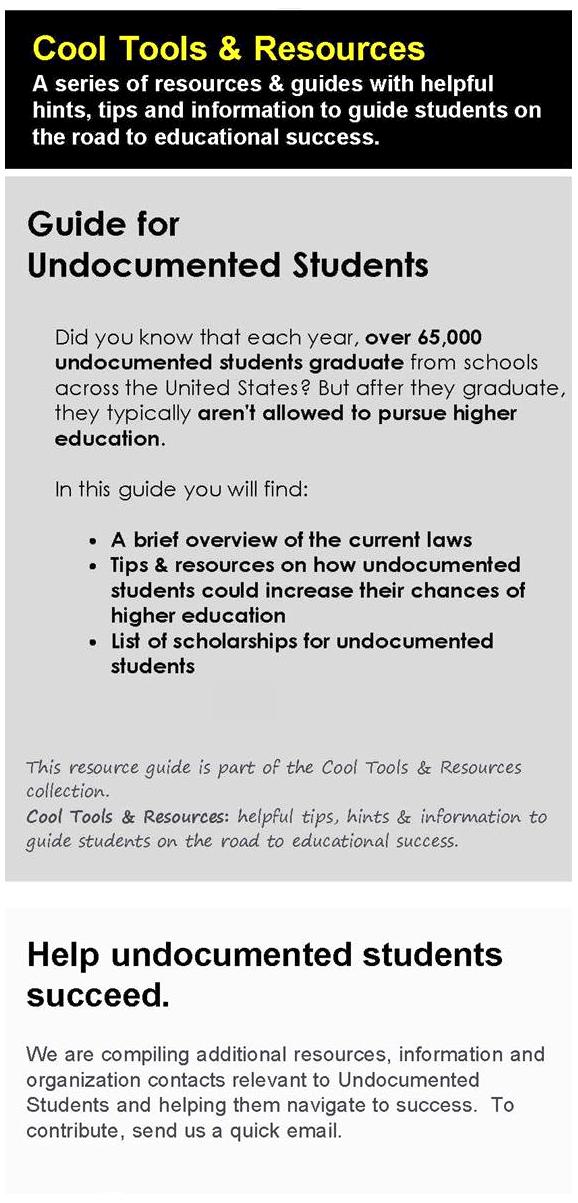 ---
FAFSA-on-the-Web Simplification Update, January 5, 2010
Fewer Questions: Questions are now asked only of applicants with relevant characteristics.
Friendlier Navigation: The entire online form has been redesigned, making it more user-friendly.
IRS data share: Students applying for aid in the spring semester using the 2009-2010 application for aid will be able to retrieve and import their tax data from the IRS.
What's Proposed: In order to further facilitate simplification, the Administration has asked Congress to remove the remaining asset questions and other financial information that cannot be found on a family's tax return. HR 3221, legislation that has been passed by the House of Representatives, begins this task by removing most asset information from the needs analysis equation. Removing all of the asset questions would make it possible for students to apply for aid using only the financial information already found on their tax returns.
Please see the website, www.ifap.ed.gov , for eligibility criteria and application materials.
For application information, Click Here
---
Scholarships for low-income mothers in education or training programs
The Patsy Takemoto Mink Education Foundation for Low Income Women and Children will offer 5 grants of up to $2000 each to low income mothers who are enrolled in education and/or training programs. Applications will be accepted from May 1 through July 1.
Please see the foundation website, http://www.patsyminkfoundation.org/edsupport.html , for eligibility criteria and application materials.
---
WSU HEP October 19 Session
The next session for our intensive residential GED preparation program for migrant and seasonal farmworkers begins October 19. There will be other sessions beginning January 11, and March 22.
The October session provides students an opportunity to graduate before Thanksgiving.  Those who need more time will have a week off before coming back November 30 to finish before Christmas.  This provides those who want to start college in January an opportunity to do that.
Our web pages begin at http://education.wsu.edu/hep/.  We have more information and applications for admission in Spanish and English on those pages.
My usual office hours are from noon until 8:00 p.m. Monday through Friday.  The main office is open from 8:00 a.m. until 5:00 p.m.  Our main number is (509) 335-5652 and we have a 24/7 fax machine at (509) 335-4089.
Near the end of next week we will begin inviting students to participate in the October session.  So if you know anyone who would like to get their GED before Christmas please urge them to get their application in as soon as possible.
---
Other Areas Resources
---
Counsulates




Counseling & Prevention




Economy




Education




Families

Health




Housing




Legal




Seniors




Partners
---
iSucceed Virtual High School focus is to educate students who, for a variety of reasons, need an alternative to the traditional public high school experience. Students from diverse backgrounds and ability levels can find success at iSucceed Virtual High School and attain a high school diploma.
---
Depression & Bipolar Support Alliance is meeting on Mondays at at 7:00 pm at Intermountain Hospital, 303 Allumbagh Street, Boise, ID 83704 as a support group for those living with mood disorders looking to improve their lives. For more information please contact Don at 208-629-9546.
---
The Idaho Supreme Court has scheduled court interpreter workshops and certification testing for 2007. If you believe these workshops would be of benefit to any employees of your respective agencies, you are invited to visit our website
http://www.isc.idaho.gov/court-interpreter/certification-training or call Janica Bisharat, Program Manager (208) 947-7417 or send an e-mail at kwoods@idcourts.net
---
Spanish Speaking Counselors: (800) 442-4673
---
BSU High School Equivalency Program
The Boise State University High School Equivalency Program is currently accepting applications for students interested in obtaining their GED or High School Equivalency Certificate. If you know of anyone 16 years or older that is interested and qualifies please have them contact our recruiter Ileana Cordova at:
(208) 426-1080 or (800) 824-7017
or http://hep.boisestate.edu